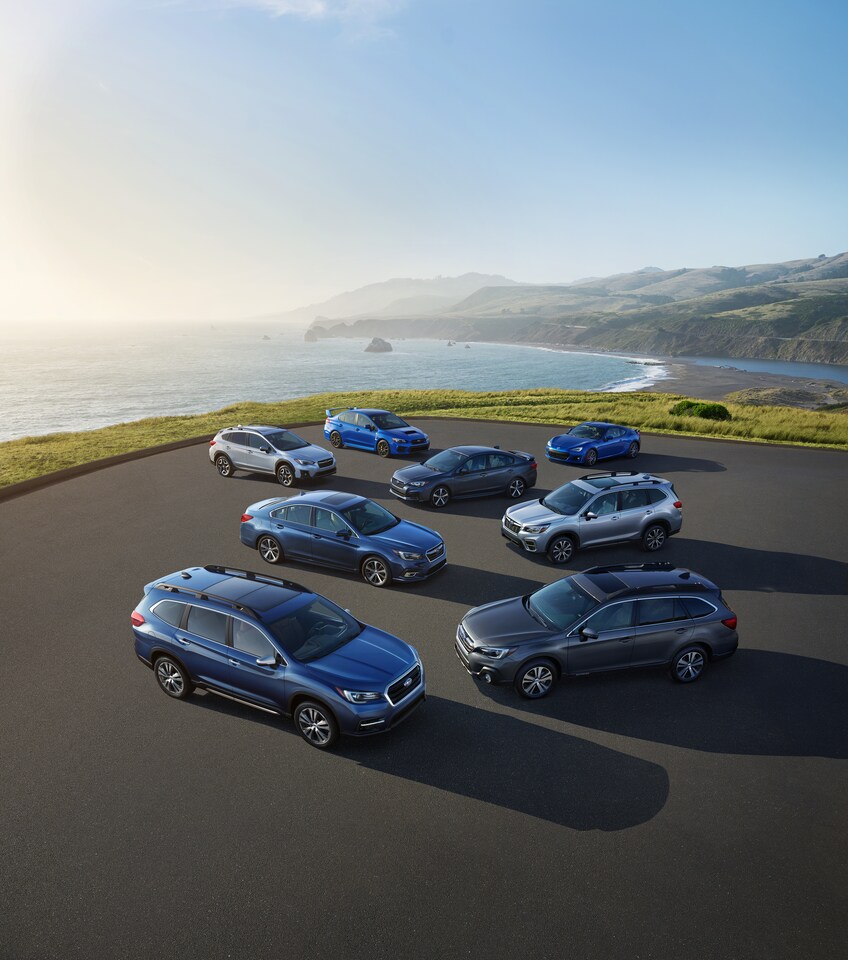 New Subaru Models in Bel Air, MD
Baltimore's Premier Subaru Dealer
Take Subaru on an Adventure in Bel Air & Beyond
At Bel Air Subaru, we want our customers to find the right vehicle for their adventures in and around the White Marsh area. That's why we aim to introduce drivers to our impressive lineup of new Subaru vehicles, like the new Subaru Legacy. Explore our models and schedule your Subaru test drive today.
Why is Subaru a Good Adventure Brand?
There are a lot of reasons we think the Subaru is one of the good adventure brands out there, like the following:
All Wheel Drive
One aspect of Subaru that makes the brand ideal for off-road driving and adventure is that the brand offers standard symmetrical all-wheel drive. As you know, many off-road situations in Fallston require that you have more control to reduce the chances of getting stuck somewhere. The power and precision that all-wheel drive gives you makes most Subaru models great for adventure. Don't forget that precision driving also makes it easier to drive through the city of Baltimore, so you can still use your vehicle in the city.
Air Suspension
We love innovation here because it gives us a new thing to talk about when it comes to the vehicles in our inventory. Subaru is one of the automakers we like to keep our eyes on because they continually add innovative features to their models, like the air suspension system. The automaker understood the system well enough and knew how customers might be able to use it. The air suspension system gave drivers height control, which is quite helpful in certain driving conditions. When a vehicle is driving fast enough, the height drops so that you get better aerodynamic performance, and that reduces gas usage. The vehicle also goes up in height when you drive the vehicle slow enough. This gives you more undercarriage clearance, and you'll need that when traveling off-road.
A Good Amount of Space
Subaru has also made it a priority to offer customers enough cargo space for whatever they might need on their adventures. Every person is different and sees adventures differently. Some people like to bring things like outdoor burners on their trips, while others bring tents and other large equipment. None of that matters; the space in several Subaru models should be sufficient enough to fit everything you need on your adventure. Explore our new Subaru Outback and Subaru Ascent models for the most space in a Subaru SUV.
Small but Powerful
Yes, most Subaru models are relatively small compared to other adventure vehicles, but that is part of the brand's charm. A small vehicle that can handle any road, gets pretty good miles per gallon, and is still powerful enough to tow a trailer is a lot more beneficial than you can imagine. Check out our selection of new Subaru Crosstrek and Subaru Impreza models for small but mighty performance.
Many adventure trips are far from the city, and that means a lot of traveling, which should be a lot more economical for you if you are in a vehicle that doesn't burn through gas too quickly. Subaru excels with producing passenger vehicles, from the sporty Subaru WRX and Subaru BRZ to the mid-sized Subaru Forester. Find your performance all-star in our new Subaru inventory today!
Schedule a Subaru Test Drive in Bel Air
These are just some ways the Subaru has cemented itself as an adventure brand, though there are more perks to learn, like how many of the beloved auto brand's models come with all-terrain tires and have components made to withstand harsh temperatures. In addition to that, the automaker has given most Subaru models a rugged touch to their exterior, making them look pretty cool. Look through our new Subaru inventory so that you can find out more information and see which one speaks to you. When you are ready, schedule that test drive we are certain you'll want to take to see the car or SUV up close and personal.
Engine: 2.5L H-4 cyl
,
Transmission: continuously variable automatic
,
Exterior Color: Crystal White Pearl
,
Interior Color: Black
,
Doors: 4 door
,
Model: Legacy
,
Year: 2020
,
Trim: Limited
,
Bodystyle: Sedan
,
Make: Subaru
View Details
Engine: 2.0L H-4 cyl
,
Transmission: continuously variable automatic
,
Exterior Color: Crystal White Pearl
,
Interior Color: Ivory
,
Doors: 4 door
,
Model: Impreza
,
Year: 2020
,
Trim: Base Trim Level
,
Bodystyle: 5-door
,
Make: Subaru
View Details
Engine: 2.0L H-4 cyl
,
Transmission: continuously variable automatic
,
Exterior Color: Ice Silver
,
Interior Color: Black
,
Doors: 4 door
,
Model: Impreza
,
Year: 2020
,
Trim: Base Trim Level
,
Bodystyle: 5-door
,
Make: Subaru
View Details