The 2021 Subaru Love Promise Customer and Community Commitment Award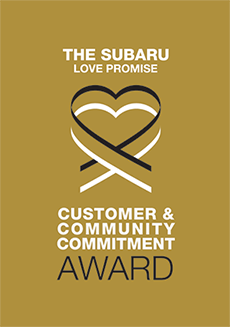 We've been nationally recognized for our dedication to our customers, our community, and the Subaru Love Promise.
We're honored to receive the 2021 Subaru Love Promise Customer and Community Commitment Award. This award nationally recognizes elite Subaru retailers who provide an exceptional customer experience at every interaction with Subaru. These retailers have also demonstrated an outstanding commitment to supporting passions and causes in their local communities in important areas such as the environment, community, health, education, and pets.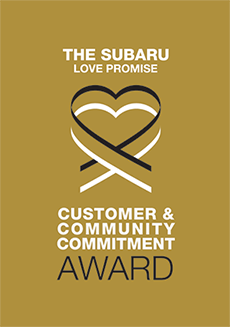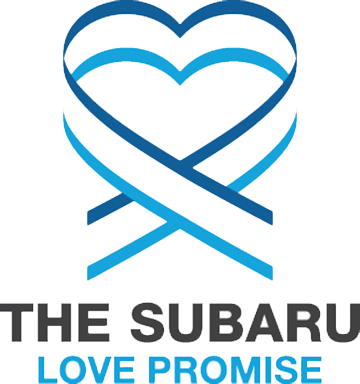 What is the Subaru Love Promise?
Subaru and our retailers believe in making the world a better place and the Subaru Love Promise is our vision of respecting all people. This is our commitment to show love and respect to our customers and to work to make a positive impact in the world.
How is Bel Air Subaru dedicated locally to the Love Promise?
Our Love Promise can be seen in various partnerships with local charities and non-profits. We're grateful for the opportunity, not only to be a part of our community, but to serve it as well.
Harford County Humane Society
Harford County Teacher of the
Upper Chesapeake Medical Cente
Love Promise Stories from Bel Air Subaru
Subaru and Bel Air Subaru believe in making a positive impact on the communities in which we live and work. We uphold that belief through our Love Promise Community Commitment. Every month, we select inspiring stories from customers and partners from around our area who strive to support our collective commitment and feature them here
Share the Love - Anthony B
For the Past 8 plus years Bel Air Subaru has partnered with our hometown charity Upper Chesapeake for the Share the Love program as part of the Love Promise, Together Bel Air Subaru and Subaru have donated over $200,000 towards the Upper Chesapeake Foundation/ Cancer Lifenet during the program. This year again we are doing the same. The impact so far has been 10,000 people served with the help of this program. This program gives us an opportunity to give back and to share the love back in our local community during these tough times and help as much as we can. We will continue to support this local charity through our Love Pledge and hope to help make the biggest positive impact we are able to through this program.
---
Harford County Sheriff's Christmas Drive - John B
Thank you to our customers and employees for all your donations to the Annual Harford County Sheriff's Office Christmas Drive! We are honored to continue be part of sharing love in our community with this program and we know every gift has special meaning, especially this year! Bel Air Subaru shares the Love!
---
Kaufman Cancer Center - Mary C
Bel Air Subaru helped Donate $20,000 to the Kaufman Cancer Center with the rest of Jones Junction Dealerships.
---
We Love that Jones Bel Air Subaru Loves Pets! - Jen S
All of us have heard the slogan "Subaru Loves Pets," but all of us at the Humane Society of Harford County know that it is more than just a slogan to the team at Jones Bel Air Subaru. Everyone who works there seem to be animal lovers, and want to find ways to help our county's pets. We are so grateful for the many opportunities to raise funds and awareness about our animals that they have afforded us over the years, and for our partnership with this awesome Subaru dealership! Thank you for always answering the call to action, to help give a voice to the voiceless!
---
Bash On The Bay - Anthony B
Bel Air Subaru Was the Campaign Sponsor for the Second year in a row For the Coastal Conservation Association of Maryland. The Bash on the Bay was a fundraising benefit at Eastern Yacht Club in an effort to raise money for the CCA so they can continue helping the Chesapeake Bay and other water ways. The Mission of the CCA is to Conserve, Promote and Enhance Maryland's Marine Resources And Bel Air Subaru is Proud to be a sponsor of the event and the CCA. Last year, employees, staff, and volunteers built reef balls on a rainy Sunday in Sept. and this year, the dealership team joined other CCA Volunteers to make a difference in a local waterway. In the spring, the team at Bel Air Subaru and CCA Maryland volunteers will be teaming up to clean up trash in Harford County, and work to Kick Plastic!
---
Bel Air Subaru Delivers Warmth to Cancer Patients - Jillian J
On Friday, July 12th, The Leukemia & Lymphoma Society's (LLS) Maryland Chapter and Bel Air Subaru had the pleasure of delivering 80 blankets the Kaufman Cancer Center at Upper Chesapeake as part of the Subaru Loves To Care program. These comforting gifts were accompanied by personalized messages of hope written by the customers and staff of Bel Air Subaru at Jones Junction. Representatives from Bel Air Subaru, the Kaufman Cancer Center at the University of Maryland Upper Chesapeake Medical Center, and the Maryland Chapter of The Leukemia & Lymphoma Society were all present during the blanket delivery, in addition to several blood cancer survivors and former Kaufman Center patients. This incredible act of generosity was warmly received by Ken Ferrara, the Vice President and Executive Director of The Upper Chesapeake Health Foundation, and other Kaufman Cancer Center staff who were thrilled to distribute these comforting gifts to their patients. Many thanks to everyone at Bel Air Subaru and Upper Chesapeake, not only for a memorable day, but for supporting LLS's mission to cure blood cancers and improve the quality of life of patients and their families.
---
North Harford Elementary School - Anthony B
Bel Air Subaru Partnered with the American Association for the Advancement of Science (AAAS) in donating science books to North Harford Elementary School in the Harford County Public School District. All of the books that have been donated were recognized by AAAS as some of the best science books in their field. This is our second year Donating to NHES as part of the Subaru Loves Learning Program. We have Donated over 150 new books each year.
---
Habitat Today, Fish Tomorrow - David S
This past July volunteers from Coastal Conservation Association(CCA) Maryland's Baltimore chapter began planning for their annual September banquet. One leader, Doug Clark, a long-time Bel Air Subaru customer approached leadership at the dealership to share what CCA Maryland does, and to seek their sponsorship as a Campaign Sponsor for the chapter's banquet. A Campaign Sponsorship directly supports CCA Maryland's Living Reef Action Campaign(LRAC)(www.ccamd.org/LRAC) our flagship habitat, outreach, and education program, and includes a reef-building event at the sponsor's place of business. Upon hearing the CCA story and all about LRAC, the leaders at Bel Air Subaru quickly agreed to support the event, and put their team in motion, instantly becoming a part of the CCA Maryland family. A date of Sunday, September 23rd was set as a "build day" and volunteers and CCA Maryland staff worked with the promotional team at Bel Air Subaru to pull out all the stops in spreading the word about the event and signing up volunteers to take part in the reef ball build. As the build day got closer, and equipment was moved into place, rain threatened the event, but leaders at Bel Air Subaru never flinched and continued to ensure that the build day would be a success, come rain or shine. On Sunday morning, an army of staff and volunteers grabbed their rain jackets, set up tents, concrete mixing equipment, and reef ball molds, and anxiously awaited the arrival of our "workers" for the day. One by one, the Bel Air Subaru customers, staff, and families and friends joined together in the service entry area, waiting for a start for the day. Like all LRAC events, the program was kicked off with a presentation that included information on the importance of sound management of our natural resources, how our government is set up to handle that task, and an overview of the history and status of the wild oyster resources of the Chesapeake Bay. The presentation reviewed the varying groups and people who rely on a healthy Chesapeake Bay, and an information about the complexity of managing an animal that provides key ecosystem services like water filtration and nutrient reduction, but is seen to many as simply a tasty treat to fry or eat on the half shell. The presentation also included key facts about the life cycle of an oyster, the importance of science in developing management strategies, and the role that all citizens play in working to limit the impacts that all have on their local environment. To finish the presentation, CCA Maryland's executive director, David Sikorski, gave step by step instructions on how a reef ball mold is set up, how concrete is mixed, and how and why the volunteers would work together to build a new oyster habitat. When the instructions ended, the reef ball building team headed outside beneath pop up tents and all began working as a team to complete the task ahead of them. With wet shoes, dirty hands, and a smile on their faces, the teams tapped on metal pins, shoveled sand, gravel, and cement, and methodically built as many reef balls as the tented area could cover. 66 volunteers in all joined in and helped build 12 reef balls before the ending time for the event arrived. On the next day, the reef balls were hatched and with all of the mold parts and tools accounted for, the LRAC trailer was packed and readied to head to the next build, and a second trailer was loaded with the finished reef balls to be taken to storage. Being made of concrete, reef balls have some of the same elemental building blocks as oyster shells and are a perfect substitution in times when populations are low, and shell resources are limited. The concrete must complete it's curing process before being set with oyster spat, a process that can only occur when Maryland's Horn Point Oyster Hatchery is up and running during warmer months of the year, and the mom and dad oysters can be coaxed into creating offspring. As broadcast spawners, oysters must exist in high densities to effectively spawn in the wild, and it is a goal of LRAC to continue to deploy enough densely populated reef balls into the Chesapeake Bay to spur natural reproduction, increase nutrient removal and water filtration, and provide a home for a host of critters that live on oyster reefs. All at CCA Maryland commend the leaders Bel Air Subaru for stepping up to be the first Campaign Sponsor for the CCA Baltimore Chapter's growing involvement in the Living Reef Action Campaign and to help create the new oyster habitat that will help lead to a brighter future, and a healthier the Chesapeake Bay.
---
Believe in Tomorrow - christine c
The Foundation provides exceptional hospital and respite housing services to critically ill children and their families. The program brings comfort, hope, and joy to children and their families. Enabling them to renew their spirits mentally and physically.
---
Back To School Giveaway - Christine c
We headed to Patterson Mill Middle High School Friday night and delivered a check for $1000 after they won the Back To School Giveaway!
---
Anna's House - Christine c
A program that provides shelter to Homeless Woman and their children with wrap-around services to help them become independent and move on into permanent housing and gain employment
---
United Way - christine c
This event was held to assist homeless individuals and families to connect with barrier-breaking services to overcome the homeless. ie: housing services, legal services, utility assistance, dental and vision services, MVA photo IDs and much more. Over 500 individual received services
---
Bel Air Subaru at Upper Chesapeake Medical Center - Sheronda B
Bel Air Subaru teamed up with the Maryland Chapter, Leukemia & Lymphoma Society in donating 80 blankets, 50 care cards, and 12 arts and craft kits to the Kaufman Cancer Center at Upper Chesapeake Medical Center. Bel Air Subaru's Owner Brian Kilby and his wife, and team along with Sheronda Booker, LLS-MD presented these blankets to the Patricia D. and M. Scot Kaufman Cancer Center at the UM Upper Chesapeake Medical Center.
---
Subaru and NWF Love the Earth - Virginia B
The St. Joan of Arc School has been working towards being recognized as a Green School and this initiative is being headed by the SJA Environmental Club. The students on the club know gardening/planting leads to a healthier environment. The look forward to caring for the garden throughout the summer and into the next school year. The garden gifted to SJA by Subaru Loves Earth will continue to be an opportunity for learning and enrichment at the school for years to come.
---
Share the Love Supports Kaufman Cancer Center - Ken F
The Patricia D. and M. Scot Kaufman Cancer Center at the University of Maryland Upper Chesapeake Medical Center is humbled by the ongoing support of Subaru and Bel Air Subaru for their gifts now totaling over $100,000 over the last four years through The Share the Love program. These gifts will support the Cancer LifeNet program. Sometimes the unknown can be the biggest fear for people when they receive a cancer diagnosis. Navigating the health care system while facing a life-threatening illness can be a major challenge. That is why the Cancer LifeNet program was developed. The goal of the program is to provide patients and their families the support they need so that they can "fight the disease" instead of wasting energy "fighting the system." Cancer LifeNet is a free and funded fully through philanthropy support system for those living in Harford and Cecil counties with a cancer diagnosis. It helps individuals cope with the physical, financial, psychological and emotional aspects of cancer. Thank you for being a neighbor who continues to help friends and neighbors. Ken Ferrara The Upper Chesapeake Health Foundation Vice President and Executive Director
---
Bel Air Subaru & Pets on Wheels Roll Out for Good - Gina K
Pets on Wheels has been rolling out good times in Maryland this year, with some help from Bel Air Subaru. Pets on Wheels brings therapy animals to facilities for friendly pet visits. Pets on Wheels has more than 500 volunteer teams and visits over 175,000 people each year at 400 facilities and events, including nursing homes, hospices, shelters, veteran's hospitals, schools, libraries, parades and more. Thanks to Bel Air Subaru's support, the group expanded its recruitment efforts in 2016. Otis (pictured) was one of the pets that joined. He was a major hit at another event supported by Bel Air Subaru - the First Annual Wheel to Heal presented by the Hunt Valley Rotary and sponsored by Bel Air Subaru. Everyone had a "rolling, rollicking good time" in support of Pets on Wheels and other charities. Pets on Wheels teams including Mugsy, a petite bulldog, and Otis, the Superdog, were in attendance, complete with costumes, to tell people about the organization's work. Otis was rescued by Tiffany Metzger as a senior dog in a shelter. Otis had a rough life, but now is a super therapy pet bringing smiles to everyone he meets. The Pets on Wheels teams greeted visitors at the event and more than $7000 was raised for Pets on Wheels and other local charities. Pets on Wheels plans to keep growing & rolling out the benefits of friendly pet therapy to even more people as they celebrate their 35th anniversary in 2017, with help from Bel Air Subaru.
---
Subaru Loves Learning Book Drive - August 1-31 - Molly M
Join us in our Subaru Loves Learning initiative during the month of August! We are partnering with the American Association for the Advancement of Science (AAAS) in donating science books to Bakerfield Elementary School in the Harford County Public School District. All of the books that will be donated have been recognized by AAAS as some of the best science books in their field. Contact us to learn more information.
---
Subaru Loves the Earth - E-Waste Event - Danielle S
We would like to thank our customers for participating in our E Waste Recycling event during the month of April. With your help, we were able to prevent 5,768 lbs of carbon emissions from polluting the atmosphere. This is equivalent to saving 221 trees, 981 gallons of gasoline, 8,362 plastic bottles, and 38,462 aluminum cans. Thank you for helping strengthen the Subaru Love Promise!
---
April 1-30, 2015 E-Waste Recycling Event - Molly M
Throughout the month of April, we are hosting an E-Waste Recycling Event in our store to collect unwanted electronics. We've arranged to work with a company who will responsibly collect, re-purpose, and recycle your electronic waste. Help us protect our environment. Just show up with your E-Waste and we'll do the rest! The first 50 customers who contribute will receive a complimentary environmental badge of ownership. We will accept: LCD Monitors, Cell Phones, Laptops, Tablets, CRTs up to 40, Video Games/Consoles, Fax Machines, DVD/VCR Players, Printers, Computer Peripherals, Switches/Routers, Cords and Wires.
---