The 2022 Subaru Love Promise Customer and Community Commitment Award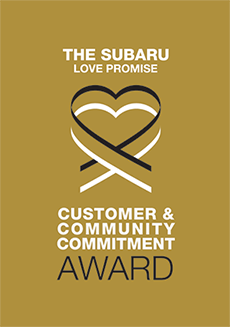 We've been nationally recognized for our dedication to our customers, our community, and the Subaru Love Promise.
We're honored to receive the 2022 Subaru Love Promise Customer and Community Commitment Award. This award nationally recognizes elite Subaru retailers who provide an exceptional customer experience at every interaction with Subaru. These retailers have also demonstrated an outstanding commitment to supporting passions and causes in their local communities in important areas such as the environment, community, health, education, and pets.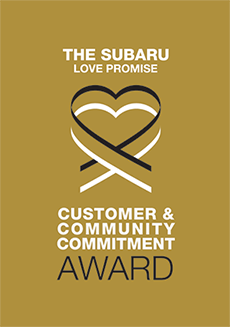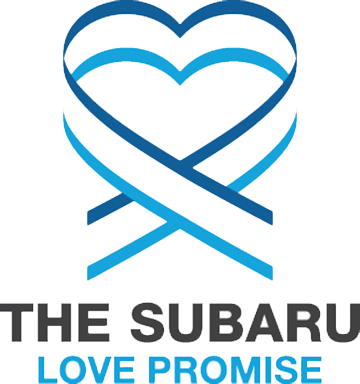 What is the Subaru Love Promise?
Subaru and our retailers believe in making the world a better place and the Subaru Love Promise is our vision of respecting all people. This is our commitment to show love and respect to our customers and to work to make a positive impact in the world.
How is Bel Air Subaru dedicated locally to the Love Promise?
Our Love Promise can be seen in various partnerships with local charities and non-profits. We're grateful for the opportunity, not only to be a part of our community, but to serve it as well.
Harford County Humane Society
Harford County Teacher of the
Upper Chesapeake Medical Cente
Love Promise Stories from Bel Air Subaru
Subaru and Bel Air Subaru believe in making a positive impact on the communities in which we live and work. We uphold that belief through our Love Promise Community Commitment. Every month, we select inspiring stories from customers and partners from around our area who strive to support our collective commitment and feature them here
Bel Air Subaru Celebrates Arbor Day - Lillian L
Today Bel Air Subaru celebrated Arbor Day by planting a tree on their grounds! This is just one of the many ways Bel Air Subaru took action with the #SubaruLovesTheEarth initiative this month!
---
Birdies for Jarrettsville Hawks Recreation - Anthony B
Bel Air Subaru was a sponsor for the Hawks Make Birdies Classic, a fundraiser for Jarrettsville Hawks Recreation. The event was a great success!
---
Earth Day Trash Pickup - Jeff R
Bel Air Subaru went the extra mile and organized a team trash pickup in their community for Earth Day. The Bel Air Subaru family is more than a retailer in our community!
---
Gifts for Mann House - Hannah B
As part of Love Promise Moments which celebrates Employees, Community, and Customers, Bel Air Subaru chose to donate gift cards to Mann House. Mann House is a local non-profit recovery house that means a lot to our community. Our team is honored to be involved with this incredible organization that helps so many find success on their road to recovery.
---
Subaru Loves to Help at Anna's House - Sydney S
In honor of the Subaru Loves to Help Initiative, the Jones Bel Air Subaru Team visited Anna's House to donate blankets and socks. Anna's House consists of four transitional living spaces and encompasses homeless services, including emergency shelter, domestic abuse, and more. This generous donation is part of the total 100,000 blankets and 50,000 pairs of socks that are donated by Subaru this year. We happy to help those who are in need of warm clothing and a safe place to stay!
---
Winifred the Under Cat - Erin L
Life on the streets is hard enough when you're a kitten: there's predators to avoid, the constant need to find food and shelter, fleas and ticks, disease and more! So imagine how distressing and scary life on the streets would be with a bum leg! Luckily for 6 week old Winifred, she was scooped up by an animal control officer on July 14th from a cat colony in Edgewood, MD, sparing her from suffering and an almost certain fate. An upper respiratory infection and conjunctivitis proved to be the least of her issues – she also had a severe fracture in her left hind leg. The pain must have been excruciating because she cried out every time she was handled. At 6 weeks, she was much too young for surgery, so she went into a foster home to gain weight, and one month after arriving at the Humane Society of Harford County, Winifred was spayed and had her left hind leg amputated. Following surgery, she went back to her foster home to recover, where Lindsey, her foster mom says it was hard to keep her confined. They even built her an enclosed playpen to keep her from jumping excessively, but she soon learned how to escape. "She meows for attention and wants to be right with you," Lindsey says. "She's a total purr machine and is such a love!" After a social media post on the Humane Society of Harford County's Facebook page caught Catherine's eye, she knew she had to meet Winifred – and it was love at first sight. Winifred climbed up in her lap and made herself right at home. Thanks to local Subaru partner, Jones Bel Air Subaru, in Bel Air, MD, vulnerable animals like Winifred get the second chances they so desperately deserve and the promise of a new tomorrow.
---
Subaru Loves Pets with the Humane Society - Hannah B
Every year in honor of Subaru Loves Pets Month, Jones Bel Air Subaru partners with the Humane Society of Harford County to help raise awareness for all of the pets who need homes. To encourage pet adoptions, Jones Bel Air Subaru donated $100 for every dog and cat who found a forever home during the month of October. At the end of the month, a total of $3,100 was donated to the Humane Society of Harford County! In addition, Subaru donated "Chewbaru Outbark" dog toys, Subaru Edition New Pet Owner Kits from Bark Box, and shelter supplies such as cleaning items, pet food, and treats! Helping pets is a huge priority at Jones Bel Air Subaru!
---
Garden Glow at Ladew Topiary Gardens - Sydney S
Jones Bel Air Subaru is honored to participate in Garden Glow at Ladew Topiary Gardens! Ladew Topiary Gardens is a local non-profit garden located in Harford County that hosts several community events every season. We are honored to contribute to these community events that bring everyone together!
---
Subaru Loves Learning with LASOS - Jeffrey R
In honor of Subaru Loves Learning this August, Jones Bel Air Subaru collected school supplies for a local non-profit called LASOS. LASOS (Linking All So Others Succeed) provides a literacy youth development program that supports academic, social, and emotional success to build stronger communities. Thanks to the generosity of customers and staff, boxes and boxes of school supplies were donated to LASOS! The children are very excited to use their supplies this year!
---
Share the Love - Anthony B
For the Past 8 plus years Bel Air Subaru has partnered with our hometown charity Upper Chesapeake for the Share the Love program as part of the Love Promise, Together Bel Air Subaru and Subaru have donated over $200,000 towards the Upper Chesapeake Foundation/ Cancer Lifenet during the program. This year again we are doing the same. The impact so far has been 10,000 people served with the help of this program. This program gives us an opportunity to give back and to share the love back in our local community during these tough times and help as much as we can. We will continue to support this local charity through our Love Pledge and hope to help make the biggest positive impact we are able to through this program.
---